Coindeal presents free token giveaway and enters the American market
|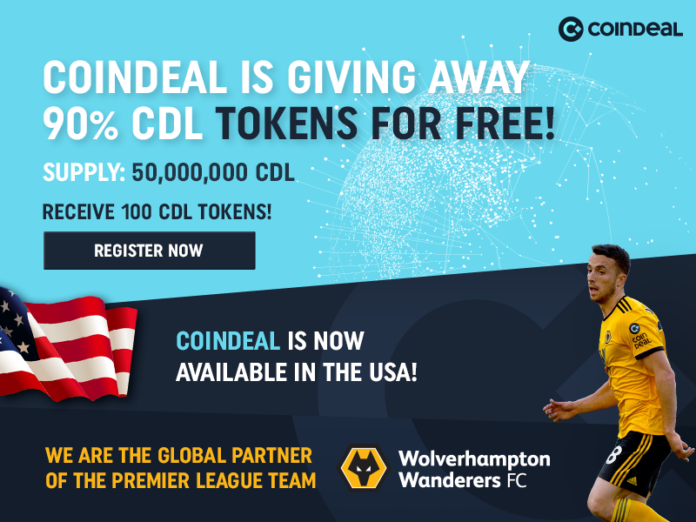 For some time now, on CoinDeal's social media channels you could see information about the upcoming surprise for their users. Finally, the secret was revealed. The exchange created 45,000,000 of its own token to distribute 
90 % of it to the current and new users! This way Coindeal celebrates, among other things, its entry into the American crypto market.
450,000 users will receive a 100 of free tokens!
This promotion opens up many opportunities for traders who already operate on the crypto market, but also for those who have always wanted to try their hand at it, but did not have the proper motivation. Apart from opportunity to learn how to trade, you can make a profit from it. Moreover, the CDL Token will allow you to reduce the fee even to 0.0000%. What distinguished this giveaway from the other projects ideas is the number of CoinDeal Tokens, because you will receive 90% of them!
The CDL token will be the backbone of CoinDeal and that's why we want to give it to our users for free – these tokens are meant to be used. We didn't want to create something that has no value and try to make money off of it, like you've seen with many ICOs. – Alex Strześniewski – Business Development Director at CoinDeal.
More information about the token you can find in the video:
The rules are simple. All you need to do is create a Coindeal account, go through verification and receive tokens that will automatically appear in your wallet.
Everything is made up in 4 steps:
Register on CoinDeal
Go through the verification process (ID and Proof of Address)
Click "Get Free Tokens"
Check Your Wallet
The number of tokens is limited and due to the large number of new users, the verification may take up to several days. Do not lose this opportunity and go to: https://token.coindeal.com/
New market – new opportunities
Although Coindeal was founded only a year ago, it has already decided to open for the traders from the USA. The founders of the exchange are counting on the great success of this action because the United States is open to crypto industries and the exchanges that are currently available for Americans do not meet all their requirements. Thanks to the fact that gaining appropriate licenses to enter the US market and creating the new token was done at the same time CDL giveaway will also be available for them.
Coindeal stays with Wolves!
At the end of the season, Wolverhampton Wanderers cooperation with CoinDeal was to end. However, what was visible on their social media and on jointly recorded videos it was not only the cooperation for them, but a great fun. That is why they were not able to part. CoinDeal becomes a Wolves partner for the next season!
We truly couldn't be happier and more excited about the possibilities this new season will bring. – Adam Bicz – one of the CoinDeal founders.